When you are investing or doing business with any company you want to be sure that company is healthy and trustworthy. The last thing you need is to send money to a precious metals or gold dealer that is in financial trouble and might not be able to deliver your purchase or even later refund your money. Gold dealers, like any company, can run into operating problems. This can happen, and quite recently did happen with a major precious metals dealer called the Tulving Company. That company failed in early 2014, declaring bankruptcy in March of 2014. That failure, by some estimates, left upwards of a thousand customers owed over $40 million dollars. The Tulving Company was a large well respected company that had operated for over 20 years in the precious metals marketplace. They had many loyal customers. But when a company like that fails it can be very financially painful to customers doing business with them. This is a good example of the importance of doing your due diligence and making sure the company you are working with is healthy and reputable.
Here are three good reasons to be sure you know your dealer:
1. A dealer who is in financial distress might not be able to deliver your products, or even refund your money. This apparently happened to customers of the Tulving Company.
2. A dealer who is not reputable and trustworthy could give you prices that are too high or suggest purchases or sales that are not in your best interests. They will make money, you will not.
3. A dealer who is not working to deliver great value to customers often will be partnered with other companies such as storage vault providers that do not provide the type of storage you really need, or they overcharge for those services.
You can imagine all the bad things that can happen when you deal with a company that does not have the interests of its customers as their first priority. Those sort of companies can become very unpleasant to work with when it comes time to sell or make some other adjustment to your account. All of these concerns should make it very clear to you that it is important to select a trustworthy, reputable and healthy company when you do business.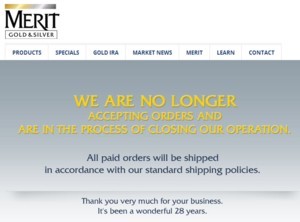 Another well-known precious metals company, Merit Gold, announced they are going out of business in the fall of 2014. Looking at their complaint history at the Better Business Bureau prior to their closing you see the increase in complaints of all sorts. That is a key warning sign of a company in distress. The complaint types included: Advertising / Sales Issues – 2 complaints, Delivery Issues- 6 complaints, Problems with Product / Service – 6 complaints. You should avoid companies that are having many of these problems. Before doing business with a company take a look at their history at the Better Business Bureau, the Business Consumer Alliance and the other review sources listed on this site.
It is no  secret, but one of the easiest ways to evaluate companies, especially precious metals or gold dealers, is to review their performance and history with independent review sources. We look at five sources of information for each company we review on this site: 1. The Better Business Bureau, 2. Business Consumer Alliance, 3. Trustlink, 4. Yelp, and 5. The Ripoff Report. Each of these five companies provides information or review services that together can very much help you understand who are the stronger and better companies to do business with. We summarize all of that information on this site for you, to speed your review of these companies.
Before you invest in gold or another precious metal, get the free Investment Guide. It provides good information on gold and silver products and is a useful reference.
.

.
Making the right choice is critical to ensuring your money is safe and investments are being made to your best advantage. Using these five independent review sources for each dealer of interest can give you an indication of trouble brewing if you notice an increase in customer complaints or delayed shipping or payment problems. That sort of information helps you know who is perhaps getting into trouble or performing poorly before you do business with them. You have enough to worry about in life and don't need to find yourself dealing with a precious metals dealer who is going bad or delivering poor value to customers.
Read this article about the collapse of the Tulving Company. You can see from that article that even companies that were once strong with many loyal customers can get into trouble and fail. Before you invest with any gold dealer, you need to take a little time to be sure the company you choose is a healthy, top-tier performer.