Company Name: Kitco Gold
Website: http://www.kitco.com
Founded: 1977
Owners: Mr. Bart Kitner (Owner)
Location: Rouses Point, NY 12979
Better Business Bureau: This Business is not BBB accredited. Click Here to Read the BBB Report.
BBB Rating:  A+  (as of April 2016)
Business Consumer Alliance:  No Record (as of April 2016) Click Here to See the BCA Site.
BCA Rating:  Not Rated (as of April 2016).
Trustlink:  No Record (as of April 2016) Click Here to Visit the Trustlink Site.
Trustlink Star Rating:  Not Rated(as of April 2016)
Yelp:  1 report filed (as of April 2016) Click Here to See Yelp Report.
Yelp Rating: 1 of 5 stars, as of April 2016
The Ripoff Report:  No Reports filed (as of April 2016) See the Ripoff Report site.
History:
1 complaints with BBB in the last 3 years, as of April 2016

Not rated on BCA or Trustlink (as of April 2016)

Lawsuits: Tax Issues and Bankruptcy: Kitco Metals Inc. (Kitco) was granted creditor protection while defending itself against the Québec Revenue Agency's allegations of 2011.  Because of the company's subsequent business conduct and better financial performance, Kitco was granted an extension of creditor protection. Click Here to Read More.

.
Kitco video

.
OUR RECOMMENDATION

www.regalassets.com
BBB: Rating of A+, 0 complaints
See the Regal Assets full review here.
Read the reviews of the other precious metals dealers. The reviews are here.
Editor's note: Let us know if you see something on this page that needs to be updated. We strive to keep all the information current.
---
Gold IRA Investment
.
What Is a Gold IRA Investment?
A gold IRA is an Individual Retirement Account in the US in which gold and other IRA-approved precious metals are held. This is in contrast to a regular IRA in which paper-based assets or paper currency are held in the account. A gold IRA works like a regular IRA, the only difference is that this plan holds physical gold such as bars or coins. Usually, these precious metals IRAs are self-directed IRAs that allow holding of diverse investments in the account while giving the account holder control over those investments. Though a gold IRA is typically a self-directed IRA, there are other types of retirement accounts that can convert into gold IRAs, such as 401k, Thrift Savings Plan (TSP), and Roth IRAs.
What Are the IRA-Accepted Precious Metals?
Selected forms of bullion and precious metals are approved by the IRS to be held in IRAs. Gold bullion coins are a smarter investment option as opposed to gold bullion bars which are more expensive to sell, heavier to deliver physically, are easier to imitate, and require a greater amount of security.
IRA-approved precious metals include: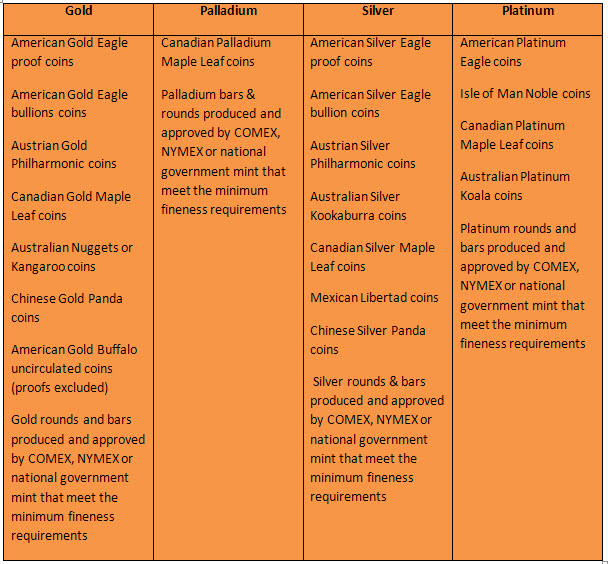 What Are the Different Types of Gold IRA Investments?
• Gold bullion
• Gold mining rights
• Gold as a hybrid of the above two types
All these investment types involve investing in gold at a set value in anticipation the price will increase over time, or that the gold will act as a store of value preventing loss of wealth.
Why Invest in Gold
The most popular reasons why gold in an IRA is better than paper-based paper based assets:
1. Paper investments such as currencies, stocks and bonds can rapidly lose their value due to inflation, while gold, silver and other precious metals have intrinsic value.
2. Gold is always in demand and considered to be the most recognized precious metal as money all over the world.
3. Gold is a tangible asset as opposed to paper-based currencies, stocks and bonds where the value depends on something related to the paper instrument.
Why Invest in Gold Now
Red hot deals on gold and other precious metals existed 10 years ago. But, it's not yet too late to buy if you understand the true value of gold.
In fact, gold and other IRA-approved valuable metals can act as an insurance-like holding to protect your wealth in the event of currency crisis or financial market downturns.
How to Start Investing in a Gold IRA?
Start talking with professional experts now to get the details on the ins and outs of investing in a gold IRA.
Make it a point to select and choose experts that have the ability to give you the products you want and need, a reputation of excellence and an established track record of positive customer experiences.

Receiving Distributions
The rule for taking and receiving distributions from a gold IRA is governed by the same laws that regulate a regular IRA. Holders of gold IRA may liquidate their coins and metals for cash or take physical control over them. Both options are the same as receiving an IRA distribution and taxes will be imposed accordingly.