Company Name: Provident Metals
Website: www.providentmetals.com
Founded: 2008
Owners: Owned by NTR
Location: Dallas, TX 75248
Better Business Bureau: Accredited Business by the BBB since 10/19/2015. Click Here to Read the BBB Report.
BBB Rating:  A+  (as of April 2016)
Business Consumer Alliance: No Record. Click Here to Visit the BCA site.
BCA Rating:  Not Rated (as of April 2016)
Trustlink: Record – No Rating. Click Here to Visit the Trustlink Report.
Trustlink Rating:  Not Rated (as of April 2016)
Yelp:  No record. Click Here to Visit the Yelp site.
Yelp:  Not rated (as of April 2016)
RipOff Report:  4 reports submitted as of April 2016. Click Here to Read the Ripoff Report.
History:
32 complaints with BBB in the last 3 years, as of April 2016

Not rated by the BCA or Trustlink

4 reports filed on the Ripoff Report. See above.
.
Provident Metals video

.
OUR ADVICE: Read the reviews and compare the ratings between the dealers. Once you see "Who is Who" you can choose the precious metals dealer who looks best for your needs.
.
OUR RECOMMENDATION

www.regalassets.com
BBB: Rating of A+, 0 complaints
The Regal Assets review is here. Give it a read.
Reviews of the other precious metal dealers are also on this site. Give those reviews a read and compare.
Editor's note: The information on this page is meant to be complete and accurate. If you see anything that needs to be updated please let us know.
---
Smart Way To Invest in Gold
,
Gold is a safe and popular investment. Of all the precious metals, an investment in gold is preferred by many. Buying and holding physical gold is a recommended way to diversify risk. Until recent times, gold has been to back currency.  The US Dollar was a "good as gold" up until 1971 when convertibility of the dollar into gold was halted. Throughout history gold has been used as money. Gold is considered a safe haven asset for investors, especially in times of stress and economic crisis. The evidence shows that in certain periods of turmoil in the financial markets, gold can be a hedge to stocks. Gold is and will remain the ultimate dollar hedge investment. Gold will often rise in value when the dollar falls.
Wise investors often hold a portion of their wealth in gold and invest in gold. There are several ways to own gold, such as through ownership of the physical metal itself, buying gold mining stocks, owning gold mutual funds, or setting up a gold IRA to hold physical gold.
Direct ownership: The ultimate expression of intrinsic value is gold bullion. However,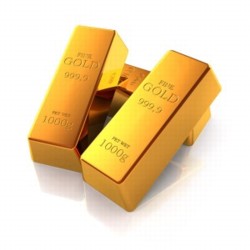 you should not consider gold a speculative asset and expect to turn a fast profit. As you buy at retail and sell at wholesale, gold tends to trade with a wide spread between bid and ask prices. For this reason you have to consider gold as a defensive asset for holding wealth over the long term. Among the forms of gold ownership favored by many investors are the American Eagles, Canadian Maple Leafs, South African Krugerrands and other minted bullion coins.
Gold exchange-traded funds: Exchange traded funds provide an interesting way to invest in gold. ETFs trade like ordinary stocks on a stock exchange. The 2 gold ETFs traded in the US hold exposure to gold bullion as their asset. Whether they hold physical gold or rights to gold through contract is a question.
Gold mutual funds: Gold mutual funds hold portfolios of gold mining companies and they are used by investors hesitant to directly invest in physical gold.
Gold options and futures: These gold investment vehicles are used by the more experienced and sophisticated investors. With gold options you can speculate on gold prices.  The futures market is even more complex and risky than are options.
A few owners of IRAs have concerns about the stock market as a store of wealth. The safest fixed-income investments pay very small returns. The risk of inflation given the currency printing by the Federal Reserve is also worrisome. Investing some of an IRA into physically held gold or other precious metals appeals to many investors seeking to diversify a retirement portfolio. Here's what you can and can't do when it comes to an IRA and gold or silver.
Physical Gold IRA Ownership
You can invest in gold as part of your retirement plan. IRAs are allowed by the Internal Revenue Service to own certain approved gold coins and gold bullion. The coins and bullion have to meet certain requirements in fineness. IRAs can own, for example, Canadian Gold Maple Leaf coins, gold bars (bullion) with a purity of at least 99.9 percent, and American Gold Eagle coins. Bullion gold bars that are below 99.9 in purity, the South African Krugerrand and many other well-known gold coins are not permitted for IRAs. These tax rules apply to Roth IRAs as well.
To invest in gold it is necessary to find a reliable trustee to set up your self-directed gold IRA, handle the transfer of funds and facilitate the physical transfer and storage of gold bullion and coins. The major brokerage firms do not typically handle gold IRAs. The gold dealers listed and reviewed on this site can help an investor set-up a gold IRA. The physical storage of the physical gold will often be done by many trustees with the Delaware Depository Service in Wilmington, Delaware.
When you set your gold IRA you will typically be charged a one-time set-up fee that is usually somewhere between $25 and $50. A few will waive that fee. You will also have to pay an annual management fee that might range from $75 and $250 and an annual fee for insuring and storing your gold that likely will  be between $125 and $250. When it comes of finding a gold dealer, look at the dealers listed and reviewed on this site. Select the dealer that appears most trustworthy and reliable to you.
In case you already have a retirement plan such as a 401(K) or conventional IRA you have the option to rollover to a self-directed gold IRA. The law allows for transfers from conventional IRAs as well as from annuities, Thrift Saving Plans, 401(a), 401(k), and 403(b) plans. The rules regarding the tax treatment of your conventional retirement plan also apply to a self-directed gold IRA. For the wise investors who are risk averse and concerned about the current rapid expansion of the monetary base and the "out of control" spending by Congress, the unique qualities of gold make it a good fit in a long-term and well diversified retirement portfolio. These are some of the considerations when you want to invest in gold. Holding physically owned precious metals such as gold in a self-directed IRA is a good method for diversifying your retirement portfolio.