Company Name:  Scotsman Coin & Jewelry
Website: https://www.scoins.com
Founded:  1982
Main Office Location:  St Louis, MO 63141
Owners: John "Jay" Woodside, owner/president

Better Business Bureau: Not Accredited by the BBB. Click Here to Read the BBB Report
BBB Rating:  A+  (as of April 2016)
Business Consumer Alliance: No Record. Click Here to See the BCA site
BCA Rating:  Not Rated (as of April 2016)
Trustlink: Not Reviewed – Click Here to See the Trustlink site
Trustlink Star Rating: Not Rated (as of April 2016)
Yelp:  4 Reviews.  Click Here to Visit Yelp
Yelp Rating:  5 of 5 stars (as of April 2016)
RipOff Report:  0 reports as of April 2016. Click Here to Visit the Ripoff Report.
History:
1 complaint at the BBB in last 3 years, as of April 2016.

Not rated by the BCA or Trustlink (as of April 2016)
.
Scotsman Coin & Jewelry video

.
OUR ADVICE: Read the Gold Dealer Reviews and speak to a few companies that look good to you. Choose the dealer that you feel best provides the services and products you desire.  Work with a dealer whose style and reputation gives you comfort that you're doing business with a trustworthy group.
.
OUR RECOMMENDATION

www.regalassets.com
BBB: Rating of A+, 0 complaints
Be sure to read this Regal Assets review.
The other reviews of gold and silver companies are also available for your use.  Scan them to find the dealers who looks best to you. You want to find a reputable and trustworthy dealer to work with when you buy precious metals.
Editor's note: If you see any information on this page that is in need of updating please let us know. We want to keep the dealer data complete and accurate.
---
Precious Metals IRA
.
The turbulence of the recent financial markets has prompted many investors to shy away from investing exclusively in stocks and instead explore other investment options. A precious metals Individual Retirement Account (IRA) is one such retirement plan option many people are using to diversify their holdings. It is a type of account that gives individuals the option of holding financial assets in the form of precious metals coins and bullion bars made of gold, silver, platinum, or palladium, and held in an IRA.
The Tax Payers Relief Act of 1997 played a significant role in shaping the dynamics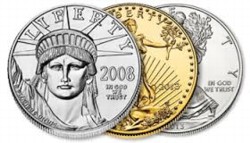 affecting investments in precious metals. The Roth IRA was introduced at the time  and that led to expanded and favorable taxation regulations regarding other retirement plan options. In addition, the act expanded the types of products that could be placed in a precious metals IRA.
Benefits of Setting UP A Precious Metals IRA
To start with, it is an efficient tool for diversifying a retirement portfolio. Prudent investors know better than to concentrate investments in only a single investment class. This is because a failure of that investment class would bring down the entire portfolio. Far too many people lost a large part of their investment portfolio during the 2008 Financial Panic. The financial market is prone to large downturns such as the financial crisis of 2008.
Second, an investor is able to own a hedge for purchasing power. Inflation has the impact of devaluing a currency. The relative purchasing power of precious metals is not as vulnerable to devaluation of a currency.
Third, it can act as insurance . The value of precious metals is not tied to changes in the stock market, bond market, and treasury bills. Consequently, precious metals are not tied to unstable stock market price fluctuations. Therefore, a precious metals IRA is perceived as diversification that helps protect against financial instability and inflation.
Fourth, investment in a precious metals IRA comes with some tax benefits. The precious metals IRA takes full advantage of the tax deferred benefits of an IRA. In addition, transfer of an existing IRA to a precious metals IRA does not incur taxes or trigger penalties.
Fifth, precious metals can bring in substantial returns which can surpass the returns  of stocks and mutual funds.
Sixth, it allows the investor to own a real and physical asset and not a mere piece of paper.
Lastly, it is a strategic tool for maintaining the value of a retirement portfolio. Throughput the course of history, precious metals have served as a store of value and have been sought after. Precious metals have intrinsic value that is not dependent upon some other asset.
How to Set Up A Precious Metals IRA
First, you need to have a good understanding of the precious metal or metals that you are interested in owning. Thorough market research is important at this stage. If necessary, seek out the advice of an expert financial advisor. Then you can make an informed decision in regard to the particular metal or metals that you want to invest in.
Second, choosing the right precious metals dealer is very important when setting up a precious metals IRA. Read the dealer reviews on this site to find and select the most trustworthy and reputable dealer to assist you. Choose a firm that has a solid track record and strong customer reviews. You want to have a good experience, so it is important to take the time now to find that top-tier dealer to do business with for setting-up your self-directed precious metals IRA.
Third, open a self-directed IRA account. The process does not take long, especially with the help of an experienced and skilled custodian. The gold and silver dealers listed on this site can assist you with this process.
Fourth, place funds into your account. This can be done by wiring the money or transferring the money to your IRA custodian. In addition, another source of funding can be from rolling over an existing IRA. Coordinate this step with the account custodian so as to make sure that all the steps are followed and completed crrectly.
Lastly, store your preferred precious metal with a trustworthy depository. A convenient way is to choose an approved precious metals depository with the help of the dealer you are working with. A depository provides the secure storage facility for the precious metals. Some companies do offer an offshore depository for further safety of your investment portfolio.

Conclusion
Investors need to make good decisions during the process of investment. Setting-up a precious metals IRA helps diversify a portfolio and protect it from a volatile stock market and the negative impacts of weakening currencies. The process of opening up a gold or silver IRA account is simple. Overall, it is a good addition to a retirement portfolio meant to preserve wealth over long periods.