Company Name: Texas Precious Metals LLC
Website: https://www.texmetals.com
Founded: May 2011, company expanded to the retail market
Main Office Location: Shiner, TX 77984
Owners: The Kaspar Family
Better Business Bureau: Accredited Business since 5/27/2011. Click Here to Read the BBB Report
BBB Rating:  A+  (as of April 2016)
BCA:  Click Here to Visit the BCA Site
Business Consumer Alliance Rating:  A  (as of April 2016)
Trustlink: Not Reviewed. Click Here to Read the Company Report on Trustlink
Trustlink Star Rating: Not Rated (as of April 2016)
Yelp:  8 reviews as of April 2016.  Click Here to See the Report on Yelp
Yelp Rating:  4.5 of 5 stars,  as of April 2016
RipOff Report:  2 reports as of April 2016 – Click Here to Visit the Ripoff Report.
History:
1 complaint at the BBB in last 3 years, as of April 2016.

0 complaints with the BCA in the last 3 years, as of April 2016.
.
Texas Precious Metals video

.
OUR ADVICE: Read the Gold Dealer Reviews and select a few companies to speak with about your needs. Learn about the dealers and what they can offer to meet your investing needs. Select the dealer that seems most capable and trustworthy.
.
OUR RECOMMENDATION

www.regalassets.com
BBB: Rating of A+, 0 complaints
Take a look at the full Regal Assets review.
You can read the other precious metal dealer reviews here.
Editor's note: When you review this information if you come across anything that needs to be updated, please let us know. We strive to ensure all the information on this page is correct.
---
How Putting Gold in IRA Can Help Create a Well-Diversified Investment Portfolio
.
Adding gold in IRA to your investment portfolio can help you achieve an effective mix that will protect you against the inevitable ups and downs of the financial markets. Not that many people are aware that you can use your IRA to invest in alternative assets because the typical IRA custodian, who is generally a big financial institution, does not allow you to do so. If you are interested in investing in gold, you will have to transfer your IRA to a smaller custodian who allows you to self-direct your IRA.
If you want to have gold in IRA you have to adhere to the guidelines set by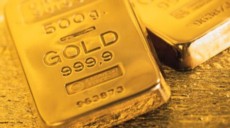 the IRS. For gold, the IRS requires a minimum purity of 0.995. The gold must also not be in the form of collectible or rare coins and cannot be kept by the IRA holder in their residence. Instead, the gold must be held in a depository that is approved by the IRS. Apart from these guidelines, a gold IRA works in the same way as a regular IRA.
The benefits of having gold in IRA include:
• Gold as an asset holds its value very well. Unlike stocks and other financial instruments, gold will never become valueless since it is a metal that has a wide range of commercial and industrial applications. In addition, it is relatively scarce and there is no risk that its intrinsic value will go down.
• It provides an effective counterbalance to stocks in your portfolio. When your paper-based investments goes down in value, gold will likely go up and vice-versa. These two types of investments balance each other out.
• Gold can act as a hedge against inflation if you hold it for the long-term. Putting gold in your IRA is a good idea if you still have a long way to go before retirement.  The price of gold is too volatile over the short-term.
The most important consideration if you want to add gold in IRA is to find a custodian who will allow you to open a self-directed IRA and who may also store your gold for you. Otherwise, you will have to arrange for a place where your gold can be stored which means an approved depository. Then you will have to find a dealer who will sell you gold. There are many good gold dealers, and this site reviews all the top-tier dealers to make it easy for you to find a trustworthy and reputable dealer for your needs. It should be noted that it is the custodian who will buy the gold on your behalf using funds from the IRA.
Here are some considerations to think about when you choose a custodian:
• What are their costs? The custodian should be transparent about how much they charge when they sell you the gold or other precious metal. Do not deal with companies who suddenly spring hidden costs on you after you invest.
• What is their online reputation? Although what people say about the company online is important, you should confirm if these complaints have any basis by checking them with independent third-party organizations such as the Business Consumer Alliance and the Better Business Bureau.
• How flexible are they? Can their offerings be customized to meet your particular requirements or do they take a one-size-fits-all approach?
• Do they meet all the requirements to store your gold? Ask them for proof that they have the required licenses. In addition, they should have insurance and be bonded to ensure you are protected in case something happens to your gold.
• How do they structure their fees? Ideally, the custodian you choose should impose flat fees as this will save you money. However, the majority of companies impose scaled fees. This means that the fees they charge for administration and/or storage will increase based on certain benchmarks, such as how much you are investing. Make sure that the custodian is clear about how they structure their fees.
• Does the custodian co-mingle or segregate your gold? Segregation is beneficial to you since your gold is not stored intermixed with other people's precious metals assets. Segregated storage generally costs more so you should consider if the additional charge is worth it.

If you are considering putting gold in IRA, make sure that it fits your overall investment strategy. You should also look into whether a traditional IRA or a Roth IRA is the best choice for your particular financial situation if you are considering investing in gold.